Mossy FIAT at the Third Ave Village Street Fair
Mossy FIAT was excited to join 102.1 FM & 105.7 FM this past Sunday at the Village Street Fair in Chula Vista. Passer-byers were able to check out our most popular model yet, the FIAT 500 Pop while enjoying live performances and great food and contests!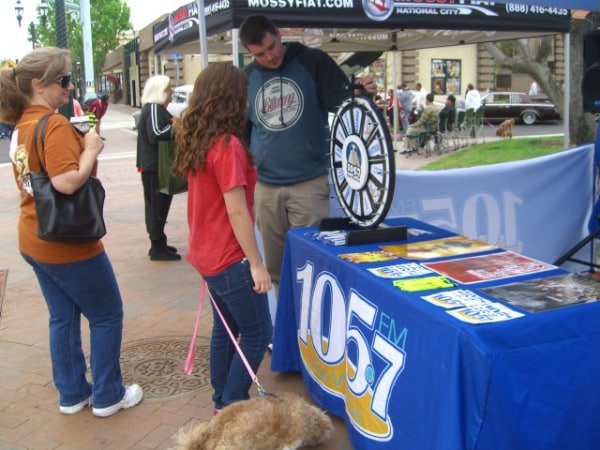 *********************************************
Mossy FIAT at Taste of Third & Art Walk
Mossy FIAT accompanied 102.1 FM at the Taste of Third and Art Walk last Thursday. A bunch of people stopped by the booth while strolling through the Third Avenue Village enjoying art and music from local artisans.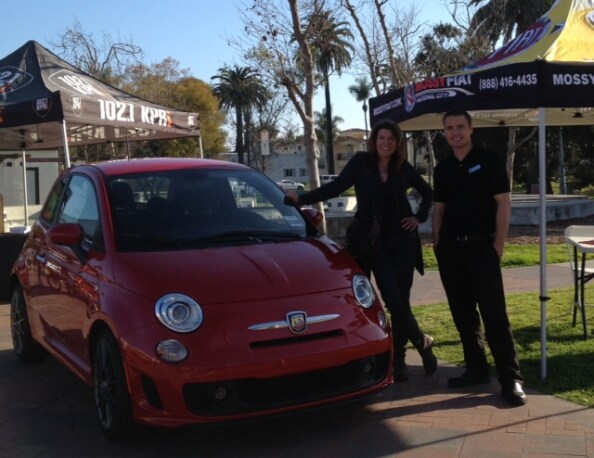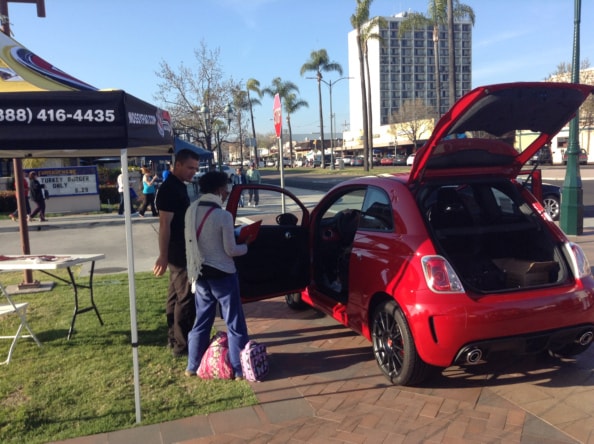 *********************************************
91X Remote at Our New Studio
91X visited Mossy FIAT this weekend. We had a great turn out! View photos from the event below!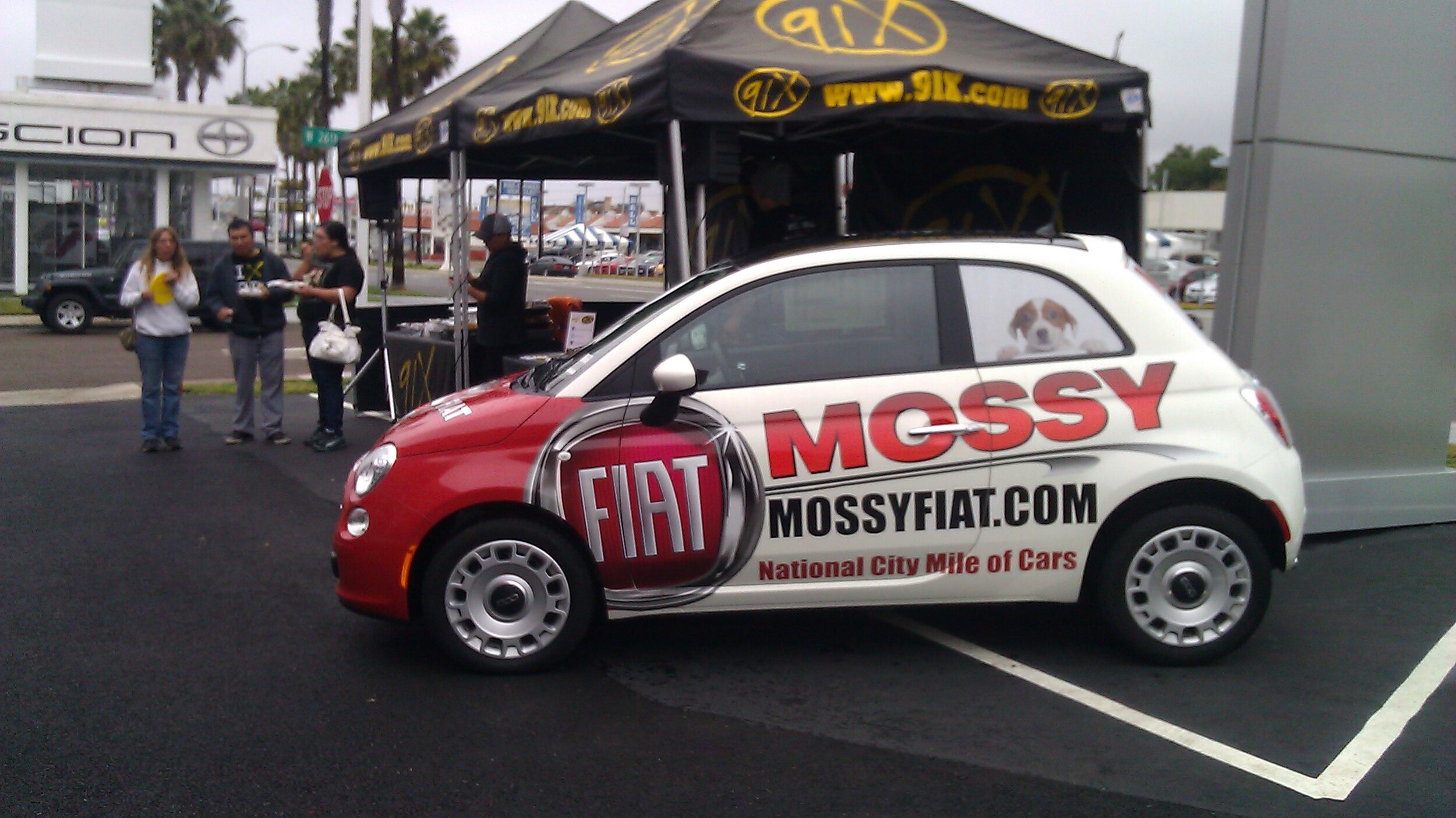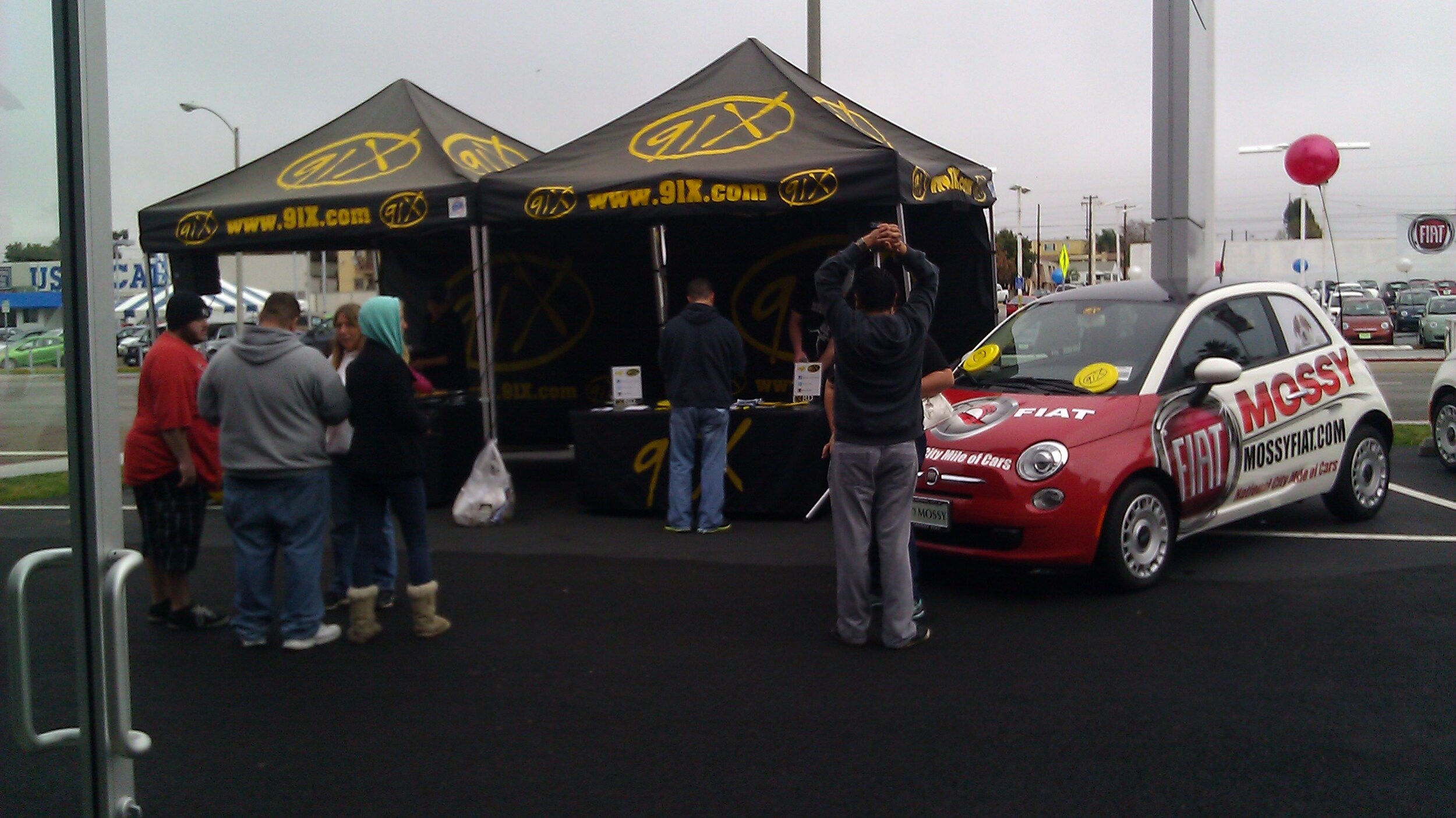 *********************************************

Mossy FIAT in National City Invites You 
to San Diego's Hottest New Year's Eve Party!
Mossy FIAT in National City is proud to be a sponsor of FINEST CITY NEW YEAR, San Diego's hottest New Year's Eve party. Mossy FIAT is working with Energy 103.7 to bring you this amazing event! 
FINEST CITY NEW YEAR will host two thousand partiers, big name international DJ's and musical talent at five popular venues in Downtown San Diego!
The main event will be located at a super new club, Block 16, with headliner DJ Z-Trip. Block 16 features a 35-foot LED wall, a state of the art sound and lighting system and a large dance floor. With two levels, two bars and a lounge area, there is plenty of space to drink and dance the night away!
Your ticket to this event is an all-access pass that also gets you front of the line privileges and food and drink specials at four other locations, all on the same block!
Your ticket includes:
· Exclusive access to Block No. 16 Union & Spirits featuring DJ Z Trip
· Front of the line privileges, 20% off food and a $7 Beer&Shot special at Bub's at  the Ballpark
· Front of the line privileges, 10% off food and $2 Off House Margaritas at the  brand new Blind Burro
· Front of the line privileges and drink specials at the swanky Cat Eye Club
· 20% off food at Lucky's
Early Bird Tickets for $75 are available for a limited time https://www.blockno16tickets.com/FinestCityNewYear&Tickets 
Mossy FIAT in National City, endorses the designated driver program and we want you to be safe. Please choose your designated sober driver, or call a cab if you've been drinking!
*******************************************
Play Monopoly at McDonald's,

and you could win one of 30 new Fiats!
September 18 - November 30, 2012 
Don't miss your chance to win one of 30 2013 FIAT 500 Sport Hatchbacks!
The McDonald's Monopoly game is back! And it's better than ever! For 2012, McDonald's is teaming up with FIAT to give away 30 brand new 2013 FIAT 500 Sport Hatchback  vehicles in McDonald's Monopoly grand prize sweepstakes! The McDonald's Monopoly 2012 online pre-promotions sweepstakes takes place September 18th through 24th.  The McDonald's Monopoly 2012 in-store and online promotions begin September 25th and continue through November 3rd.
Here's how to play and win McDonald's Monopoly 2012 game!
You can win instantly in the McDonald's Monopoly 2012 game by purchasing food from any McDonald's location. You can also play the digital McDonald's Monopoly 2012 game online at PlayatMcD.com  for a second chance to win! By collecting and winning McDonald's Monopoly property sets you can win cash and partner prizes including the 2013 FIAT 500 Sport Hatchback!
Be sure to see the McDonald's Monopoly 2012 rules for more information!
*********************************************
Mossy FIAT at The Adams Avenue Street Fair
September 29 & 30, 2012
Come listen to great music, enjoy delicious food, and check out the stylish MOSSY FIAT 500 Pop Hatchback  with fun folks from MOSSY FIAT! We'll be at the Adams Avenue Street Fair, located in the Normal Heights community of San Diego, on Saturday, September 29th from 10am-10pm and Sunday, September 30th from 10am-7pm.
Just look for our exciting MOSSY FIAT booth. You can't miss us! We'll be showing off our colorful, affordable $89 Mossy FIAT 500 Pop Hatchback!  Our experienced MOSSY FIAT staff will be there to answer questions, and show off out all of the cool features of the MOSSY FIAT 500 Pop Hatchback ! When you stop by the MOSSY FIAT booth you can also enter to win four free passes to Disney on Ice, or two passes to the Broadway musical Jekyll & Hyde courtesy of MOSSY FIAT in National City.
If you can't make it to the street fair, be sure to come down to MOSSY FIAT, your San Diego FIAT dealer on the Mile of Cars at 2626 National City Blvd, National City , and see the MOSSY FIAT difference for yourself! You can also call MOSSY FIAT at (888) 621-9929 today to inquire about the unique characteristics of the Mossy Fiat 500 Pop Hatchback for only $89 a month lease plustax.*  At MOSSY FIAT, we have strong and committed specialists with many years of experience satisfying our customers' needs, and look forward to the opportunity to introduce you to the FIAT brand!
About the The Adams Avenue Street Fair:
Your San Diego FIAT dealer, Mossy FIAT in National City is proud to be a part of Southern California's largest FREE two-day music festival. The Street Fair offers fantastic entertainment for all-ages, all weekend. The 2012 Adams Avenue Street Fair will feature more than 90 musical acts performing on seven stages on Adams Avenue. Headliners include:
· '60's psychedelic rockers the Strawberry Alarm Clock, featuring former Oingo Boingo   guitarist Steve Bartek
· The reunion of San Diego rockabilly trio The Paladins
· The return of music provocateurs Mojo Nixon and Skid Roper
· Blues guitarist Coco Montoya
· The Puerto Rican-based ensemble Plena Libre
· Singer/songwriter Jack Tempchin
· Indie band Cuckoo Chaos
· Kofi Baker's Cream Experience with special guests, country singer/songwriter Chuck Cannon
· Blues artist Junior Watson
· East L.A. R&B favorites Tierra and more!
In addition to the exciting musical line-up, there will be four beer gardens, a beer tasting area, giant carnival rides, and more than 300 food, arts and craft vendors selling their specialties throughout the street fair venue. More info at adamsavenuestreetfair.org