Mossy FIAT presents the FIAT 500e, the All-New, all-electric vehicle!
The 100% battery operated FIAT 500e yields zero tailpipe emissions without compromising style. And so, Italian styling, instant torque, strong and smooth acceleration and more aerodynamic bodywork result in this environmentally friendly vehicle.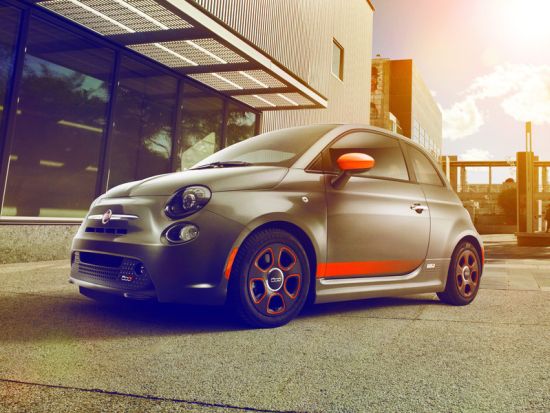 Why choose the FIAT 500e?
Industry-Best 108 MPGe Highway Rating*
Available eSport Exterior Package
EPA-Estimated Fuel Consumption Rate of 29 Kilowatt Hours (kWh) Per 100 Miles*
Bi-Halogen Headlamps
111 hp (83-kW) Electric-Drive Motor
BLUE&ME? Hands-Free Communication w/ iPod® Mobile Device, USB & MP3 Interface
24-kWh Lithium-Ion High-Voltage Battery
Electronic Vehicle Information Center
147 lb-ft (200 Nim) of Torque
7 Airbags
15-Inch Firestone Firehawk® GT Low Rolling Resistance Tires
Heated Front Seats
Electronic "Push-Button" Shifter
ParkView® Rear Park Assist System+
TomTom® with Voice Activated Commands and Battery
Antilock Regenerative Brake System
Range Indicators and Routing Smartphone Application with Remote Telematics
Electronic Stability Control
SiriusXM Satellite Radio**
* Actual mileage/consumption may vary
** Sirius subscription required
FIAT 500e Colors
Paint the town your favorite color. Arancio Elettrico (Orange), Argento (Silver), Grigio (Grey), Bianco Perla (White) and Nero (Black) come with a White front fascia and mirror cap on the FIAT 500e Steam model. Argento, Grigio, Bianco Perla and Nero with a Nero front fascia and body-color mirror cap are available for the FIAT 500e Nero Steam model. And Argento, Grigio, Bianco Perla and Nero with a Nero front fascia, Orange mirror cap, side stripe and dark tinted exterior light surrounds are standard for the FIAT 500 e-Sport package.
FIAT 500e Aerodynamic Improvements
The FIAT 500e incorporates nine aerodynamic refinements that ultimately increase overall vehicle range. These include an aerodynamically-enhanced spoiler, a diffuser that carries on from the underbody, optimizing the airflow output, as well as the front fascia which has been lowered for increased aerodynamic efficiency and optimized for airflow in wind tunnel testing. In addition, the spoilers, side cladding and rear fascia provide a substantial drag reduction. New underbody aero treatments, wheel inserts & aerodynamic inspired styling also adds to the cause.
FIAT 500e One-Touch Power Sunroof
Let your environment in and enjoy the world in all its splendor. A vent, tilt, and slide power sunroof with express (one-touch) opening and closing is available as a factory-installed option. Two open modes: panel tilts upward at the rear for ventilation, or slides rearward for full roof opening. A manual-sliding sunshade covers the deep-tinted glass panel.
FIAT 500e Special Interior Color Palette
The FIAT 500e instrument panel features a contemporary design and several unique finishes/final touches based on model and color. Seats, door panels and unique mats coordinate Nero (Black) with Arancio Elettrico (Orange) accents and Arancio Elettrico stitching. A Nero and Steam combination is also available.
FIAT 500e Alpine® Premium Audio System
Six high-performance speakers, seven channel custom equalization, Series digital amplifier and SiriusXM Satellite Radio+ all come standard. Radio features include AM/FM station presets, radio seek functions, CD player, MP3 functionality, auxiliary input to support external audio sources and USB port to support media play. Steering wheel-mounted audio controls and a commonsense approach to function make operation especially convenient.
FIAT 500e Interior Comfort and Convenience
FIAT 500e seating selections are designed with premium materials and attention to detail. Available in leatherette with cloth inserts, fully reclining front seats come with contrasting colored headrests (also in rear) and an EZ-Entry pull handle. Rear fold-flat seating is divided in half to maximize passenger and cargo loading versatility.
FIAT 500e Battery Re-Charging
The FIAT 500e battery pack must be periodically recharged. Unlike vehicles powered by fossil fuels, Electric Vehicles (EVs) are most commonly and conveniently charged from the power grid overnight at home, without the inconvenience of having to go to a gas station. Charging can also be done using a public or workplace charging station. An industry standard SAE J1772 Recharge Coupler is used for Level 1 and Level 2 charging.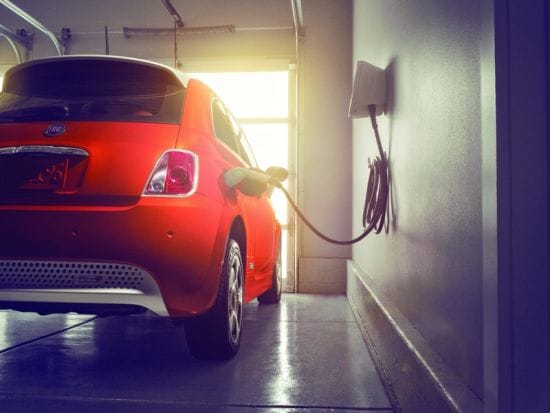 Source: FiatUsa.com